Home
Our Company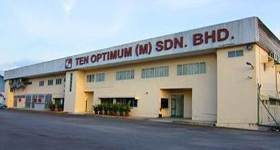 In year 1979, Ten Optimum was first established in Hong Kong under the name of Kwan Fung Industrial Company Limited as a manufacturer specializing in long-standing plastic packaging. In 1993, the company relocated its entire operations to Malaysia, and Ten Optimum (M) Sdn. Bhd. was incorporated.
Ten Optimum is a leading manufacturer of high quality polyethylene films and products. It creates premium quality products by providing the most appropriate cutting edge technology and giving full attention to quality control and customer needs.
Our factories and offices are strategically situated in North Port Klang within the North Klang Industrial Estate. Malaysia's main shipping port is located less than one kilometer from our factories and this close proximity facilitates speedy import and export logistics of raw materials and our finished goods. Our factories are also located at approximately 60 kilometers from downtown Kuala Lumpur and is easily and quickly accessible via modern highways.
Highlights